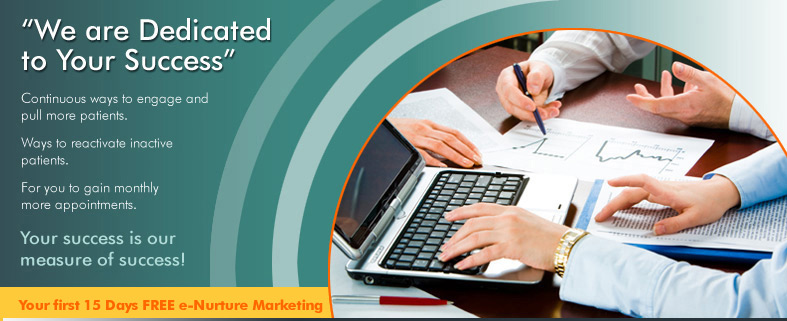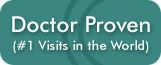 About Us
Dedicated to Providing the Highest Quality Product and Service to the Doctor Community with Customized Benefits for Practitioners

Health Realizations Inc. was founded by John Dearlove, the former CEO of Mercola.com, which is the No. 1 Doctor's highest traffic Website in the World with several million readers per month.
The same proprietary eNurture Marketing Formulas, highly trained team and same type of high quality writing and technology that you find with Mercola.com is now available to you through Health Realizations.
Nearly every doctor that John has met during and since leaving Mercola.com has asked for help to develop a relational newsletter like Mercola.com.
Your New eNurture Marketing Team Developed the #1 Doctor's Website Traffic in the World (
mercola.com
)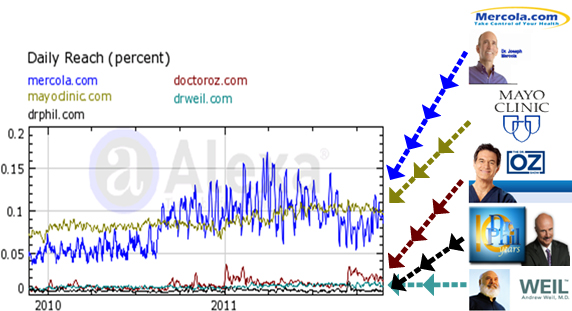 More traffic than:
John Dearlove, former CEO of mercola.com plus his proprietary formulas and highly trained team are now your team... proven highly effective and very affordable.
Successful exponential growth
is a norm for John and his team.
Have you heard of Cancer Treatment Centers of America (CTCA)? Before joining Mercola.com as the CEO, John and his team developed for CTCA what they titled "Patients' Circle of Life." Behavioral marketing and internal processes that encompassed complete assessment repositioning and continuing implementation plan. Behavioral Nurture Marketing to prospective patients through every touch-point the patient comes into contact with CTCA including: TV, Website, blogs, newsletters, online chat, call center, emails, to admissions, through treatment and even ongoing remission to sustainable new life style choices and support.
From John's first shared visions of his Belief Dynamics Formulas with the CTCA Board of Directors in Saint Moritz Switzerland, to the full internal and market analysis, planning and rollout and ongoing implementation, CTCA grew over 10,000% (with only an increased number of hospitals from one to five during the same period).
Not dissimilar, over 90 other corporations in the 80s and 90s utilized his Agency's highly trained team and proprietary Formula's business planning through execution. Including but not limited to: Heuer watches (entry into the US market), Joseph Abboud (men's fashions), Sears, Siemens, Baxter, Abbott, Tap Pharmaceuticals, UpJohn, many food companies and notational restaurant chains, financial institutions, etc.
Dedicated to helping you acquire and "protect" your market patients.
John knows how hard you have worked to grow your practice. He wants to help you both grow and retain all you gain.
While you nurture and refer... you should have a structure to retain!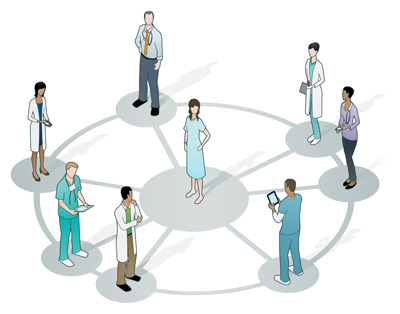 Your Practice "Patient Protection."
John heard from many Doctors that patient acquisition was very expensive making market protection an issue, need and challenging priority. Some Doctors seemed to be apprehensive about discussing this issue. Others stated this openly. Once John heard and understood the significance of this issue for Doctors he assigned teams to add this into the custom built systems to assure your patients will be eNurtured, Retained and Protected... protecting your investment.
John spent millions incorporating his proprietary eNurture Marketing formulas into the custom developed dynamic web marketing software in building Health Realizations Inc. (HRI). He has now gone well beyond that by responding to repeated Doctors' requests for "First to Market" advantage with their patients. Patient emails address exclusivity. So YOUR patients are not sent other doctors' HRI eNurture articles. Assurances that your patients are solely sent your eNurture Marketing content.
Done! Fully completed for you... every patient's email address you enter is protected for you (unless already taken by another Doctor) exclusive use in your eNurture Marketing database (protected from other Doctors marketing to your "First to Market" uploaded patients)
It's now more important than ever to upload both your active and inactive patients email addresses.
This is your "First to Market" advantage so that if any other Doctor tries to upload any of the same email addresses you already have uploaded "FIRST" in your database, their database will state "taken"! (without stating your name).
To switch to yours, an already "taken" patient will have to:
Cancel their current subscription with their other doctor (by simply clicking the unsubscribe button at bottom of sent weekly sent Doctor's articles).
Subscribe to yours (or you can upload them into your database but ONLY after they have first unsubscribed from their current subscribed Doctor).
(IMPORTANT: They must first be unsubscribed/canceled in the current Doctor Health Realizations Inc. service before they can be accepted in yours).
The other possibility is if or when the Doctor cancels their HRI services, then their entire database will be open to your eNurture Marketing uploading of same patients email addresses.
No worries, as no patient will be sent the same prewritten content by another HRI Doctor using the HRI systems due to these very systems.
Other software companies have in fact asked John Dearlove why he went the extra miles and cost to create software that limits the later Doctors from putting your patients into their nurture marketing emailings.
"Early adopters and visionaries" John said "are those who I'm most aligned with. They should be rewarded for their commitment to their patients."
"First To Marketers"
is the title John gave those who take advantage of getting in earlier to gain the benefits and the value of protecting their patients... continuing to add more patients ... so they can continue to nurture their market ongoing growing their practice!
John Dearlove and His Team's Background
John and many on his team have worked together for many years. He had founded and managed an Integrated Marketing Communications and Advertising Agency on Michigan Ave. in Chicago for over 20 years. The Firm was J. L. Dearlove & Affiliates Inc. that served over 90 major corporate clients including corporations in healthcare, New York high-end fashion, retail, restaurant chains, industrial, and business to business in which he developed his proprietary behavioral marketing formulas that grew many Corporations from Millions in annual sales to Billions.
John made the decision to create Health Realizations Inc. based on many requests from doctors to create a very affordable yet high quality eNurturing infomediary, much like mercola.com ONLY without the high pressure hard sell hype that has developed since John left mercola.com. John set out and developed a new service for practitioners that provides most if not all the same benefits to practitioners for pulling more market to their practices... only virtually effortless!
After over 2 years of development and one year of BETA testing, Health Realizations officially launched in the summer of 2011.
In support of you and your practice, Health Realizations Inc. has developed software that provides you automated effortless eNurture Marketing prewritten articles with the ability for you to personalize or add your own dynamic web communications.
All to help you grow and reach, then retain your most successful practice... ever!